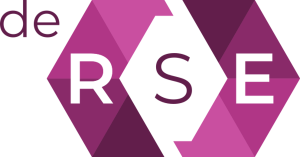 deRSE23, the third conference in Germany addressing research software and the people behind it within the German research landscape will be held at the Heinz Nixdorf Forum in Paderborn on February 20-21, 2023.
We welcome submissions (in English or German) from any and all people who have an interesting take on research software development. We are not just looking for seasoned presenters or people who are already well known. Thus, speakers from under-represented backgrounds and at early career stages are highly encouraged to submit a proposal. The aim is to reflect the diverse community of research software engineers by seeking input from all levels of experience and across a variety of domains, geographic locations, genders, and ethnicities.
November 21, 2022 - Deadline for abstract submissions
December 12, 2022 - Open registration for conference
December 22, 2022 - Notification of acceptance and program
February 20-21, 2023 - deRSE23 conference
More informations - also in German - on the submission page.